Share sedikit sebelum kelar..
Aku mendapat order dari pacar temanku di awal bulan Mei, sampai sekarang belum selseai *whadduh..
Too much to think..!! Jadi agak bermalas-malasan merajutnya. Banyak hal-hal gila yang bikin aku malaaaas.
Ukuran tas jadinya nanti kira 20x30 cm. Motifnya aku buat sendiri, menggunakan benang katun lokal.
Setelah bertanya ke sana ke sini, nantinya pada bagian dalam akan dilapisi kain furing. Pada bagian pegangan tas dibuat dengan rajutan, bukan handle.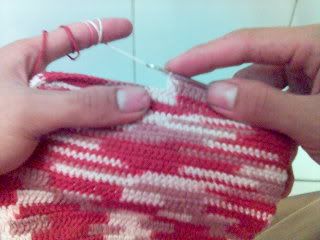 Come on man.. where is your spirit of kniiiit..??!!
Okeeey, aku akan lebih bersemangat lagi merajut, tak perduli masalah yang aku hadapi. Justru biasanya aku malah merasa tenang kalo lari ke rajutan. Apalagi kemaren si cewek yang pesan baru datang dan menanyakan tasnya, aku harus selesaikan ini.!!